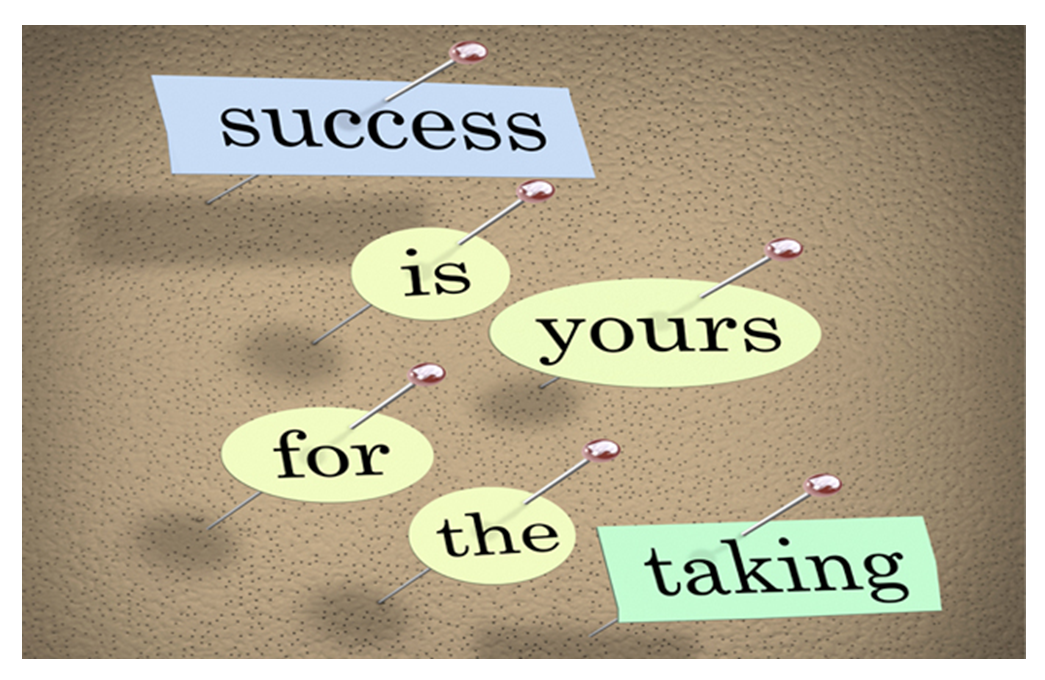 Hi, I'm Tiffany Peterson, and I'm thrilled to share with you today the secret sauce in setting goals that are realistic and doable – and the ability to follow through and actually achieve them – which is significantly higher when you follow this model and this formula.
People have challenges with their goals – that's if they're even setting them.  I'm curious, have you set your goals?  Are your goals up to date?  Has it been a while?  Could they use a little bit of refinement?
Sometimes the biggest challenge comes because we sometimes set goals that are pie-in-the-sky, right?  It's this all-or-nothing mentality which is what I call the perfectionistic pitfall. See, when something is all or nothing, it means you might be setting goals that are setting yourself up to fail.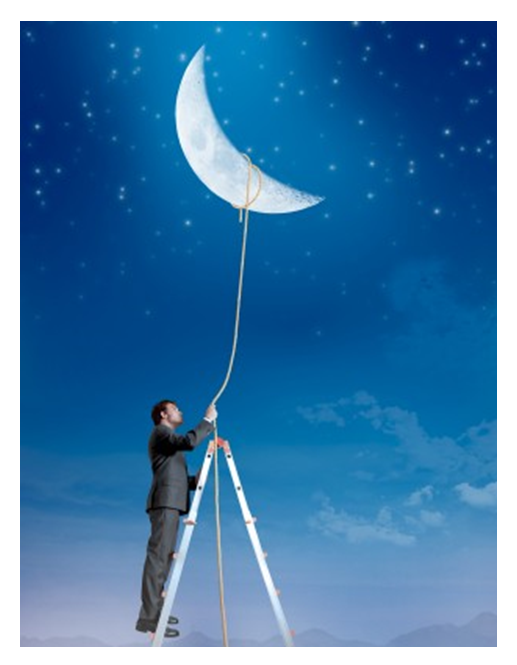 Now what I mean by that is – you might be setting a goal, for instance, where you're going to say, "I'm going to work out every single day."  That might be a little bit much.  If you were my client, I would tell you, "Settle down.  Just a moment.  How often are you working out now, or getting moving, or exercising, currently?"  And if you're telling me, "Never," or "Really inconsistently," then going from zero to "I'm going to work out seven days a week" is a little bit unrealistic for sustainable success.
Maybe you're setting a goal to not eat any more sugar, or maybe you're setting a goal you're going to write a part of your book every single day.  See, when we set ourselves up that way, that it's all or nothing, we set ourselves up for that pitfall perfectionism.  Because the moment you mess it up, the one day that you don't make the workout, maybe you're sick or something came up with your kids, or you eat that cupcake, whatever it may be, that when we're setting goals that are pie in the sky, we're setting ourselves up to potentially fail.  So I just invite you to become aware of that when you're setting your goals.
To dive more into this process, I'm going to share with you a powerful formula by Raymond Aaron.  He was a great teacher from Canada, on goals and productivity.  This is his content I've been implementing in my life for years, as well as teaching and sharing it with my clients to help them succeed at achieving their most important goals.  So consider – what are your goals in health, wellness, in income and sales, in relationships, in home or projects or hobbies?  I'm going to share with you what is called the MTO formula. MTO stands for:
M: Minimum
T: Target
O: Outrageous
So, thinking about the goal – I'm going to use health because it's an easy one and it's one that applies to every single person watching this video or listening to this podcast, or reading this blog – is this aspect of MTO, minimum, target, outrageous.  Let's say one of your goals is to get moving more and exercise.  We all know that we feel great when we exercise and when we get moving.  So, rather than saying, "I've got to work out every single day," consider, minimum:  you're going to get moving three times a week.  Maybe target is four times, and outrageous would be five plus.  Let's say you want to organize your home or your office or your closet, or maybe there's a massive project that you're working on.  And you might say okay, minimum, I'm going to put in two hours a week, target is three, and outrageous would be four plus.  If you're making sales calls, what I like to call connection calls, and make – reaching out with contacts, and whether that's email or phone or setting up appointments – is that you, for yourself, same thing – is how many contacts are you going to make this week?  How many people in your network are you going to nourish?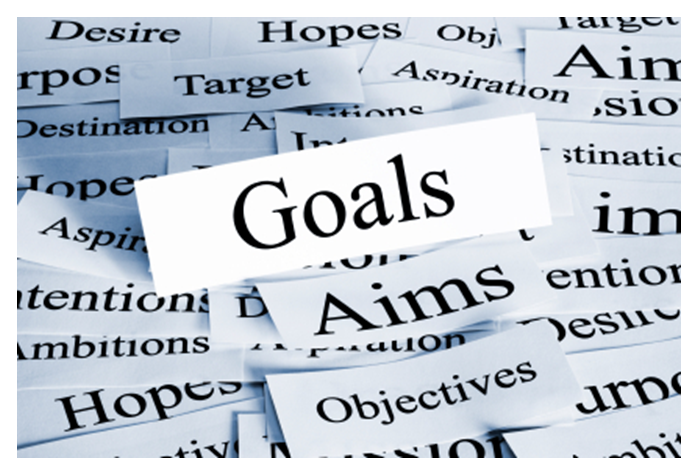 I use this formula for everything.  It's helped me significantly make progress.  You've probably heard me say at some point or another, "It's about progress, not perfection," right?  And when we set the pie-in-the-sky, all or nothing goal, we're susceptible to that pitfall of that perfectionistic thinking.  So what I love about this is it gives you a scale.  It makes your goals scalable, or doable, or in other words progressionary.  Rather than saying, "Oh, I failed, I didn't work out today, forget it.  I'm not going to work out any more the rest of this month or this year, and I'll set that New Year's resolution once more in another year." It gives you this scalability to keep it focused on progression, which is key to sustainable success.
So if you're writing a book – minimum, target, outrageous – how much are you going to write?  If it's sales contacts, you want to grow your business, how many are you going to follow up with?  Minimum, target, outrageous.  If it's taking better care of your health and well-being, and maybe you say, "I'm going to get moving for at least twenty minutes, three times a week; twenty minutes four times a week target, twenty minutes five times a week – is that you get your body moving.  So whatever the goal is – health, relationships, sales, income, contacts – you can use this formula to guide your success.
Now I still love to focus on the outrageous goal – the pie-in-the-sky, the breakthrough goal, the BHAG, which stands for big, hairy, audacious goal.  I love to still visualize this and focus on this.  This would be, again, that massive level of change.  Yet I also give myself the permission, and I'm inviting you to do the same for yourself, the permission that I'm going to make progress.  And you know what?  Truthfully, from my heart of hearts, I think the most important goal that you ever make is that it is about progress, not perfection.  That as human beings, we're all trying to learn and figure it out.  There's this quote by Buckminster Fuller, where he says, "You can never learn less," by setting goals.  So set them.  Put them in writing.  Post them.  Get support around it.  But this process of minimum, target, outrageous gives you the framework to make it scalable, doable, and allows yourself to stay checked in.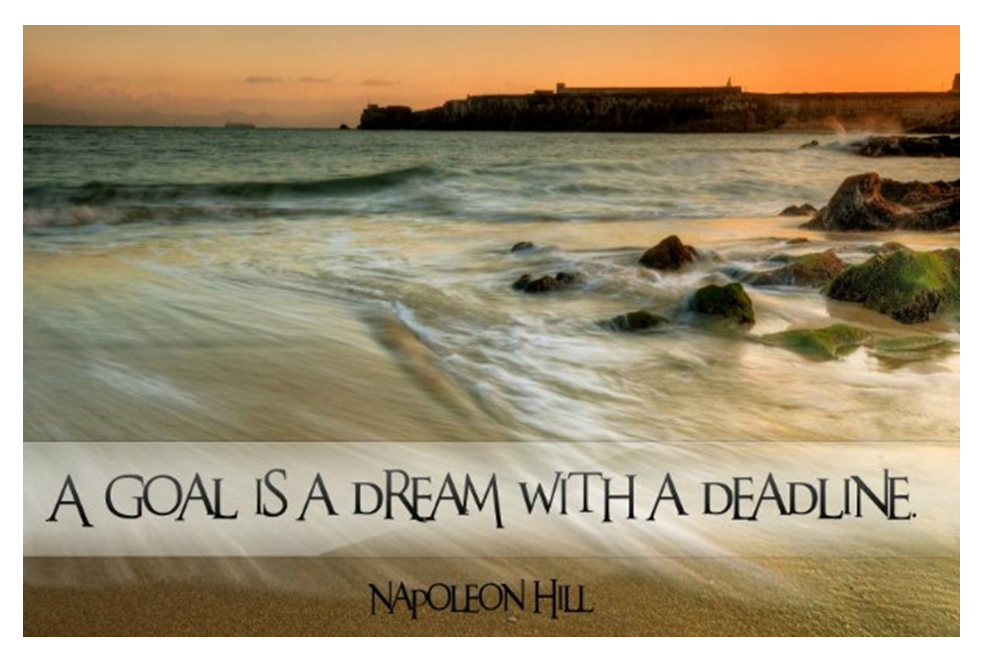 When I ask people, "What's your biggest issue?  Where do you struggle the most?"  It isn't a lack of knowledge.  Most of you have a lot of knowledge on goals and goal setting, and a lot of knowledge on health and sales and relationships.  The gap is follow-through.  But you know what?  Your fortune is in the follow-through.  So how do I get you to follow through more? It relies upon if you can stay checked in.  That's what I love about this process, to make progress and steps towards your goals.  You can never learn less, you're going to learn more by taking action than any other thing.
So set your goals.  Give yourself some benchmarks today around your sales contacts, around your health and wellness, around relationships for connection or getting organized, or writing or producing that book or product.  Minimum, target, outrageous for yourself, so you create that feeling and that awareness that you can continue to make progress.  It doesn't have to be perfect; what matters is you stay checked in and committed.
Cheering you on!
Tiffany Peterson