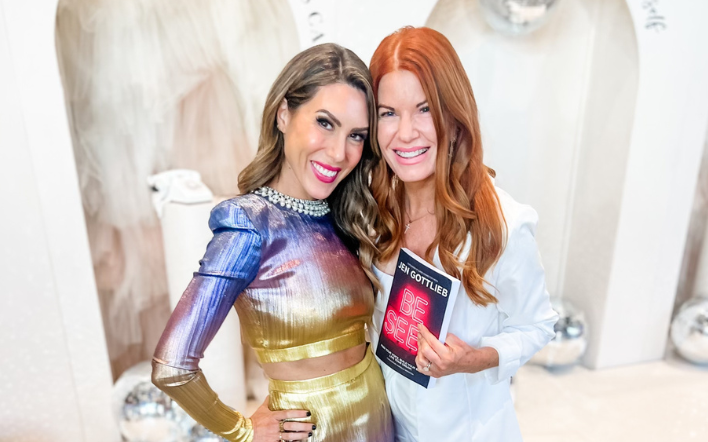 I know you are going to love today's episode. It's with one of the best speakers I know, who just wrote an incredible book about what it takes to be seen as who you really are — and why it's so important that you are.
Jen Gottlieb is a powerhouse entrepreneur, international speaker, host of the I Dare You Podcast, and co-founder of Super Connector Media – an award-winning training, events, and online education company. With a successful five-year stint as a VH1 host and a career as a Broadway actress, Jen has been making waves in the entrepreneurial world by teaching business owners how to build profitable brands and become "The Recognized Expert" in their field.
As a sought-after speaker, Jen has shared the stage with top thought-leaders and celebrities, includingGary Vaynerchuk, Marie Forleo, Eric Thomas, Emmit Smith, Snoop Dogg, and Martha Stewart. Her work has been featured in Forbes, Business Insider, Maxim, Goop, Women's Health, and other major publications.
Jen's company, Super Connector Media, was recently listed on the INC 5000 list of fastest-growing private companies in America, and Jen herself was named one of the "Top 50 Speakers in The World" by Real Leaders Magazine.
Despite her many accolades, Jen remains a true New Yorker at heart and shares her Manhattan home with her husband Chris and their three adorable dogs, Tammie, Teddy, and King Arthurs. 
In this episode, Jen shares the story behind her amazing career, why she had to read her own book to give her the courage to be seen, and what is possible when you leave behind the fear of judgment about who you are.
"We get so wrapped up in worrying about what other people think of us that we forget that it's not about us at all."
listen on
show notes
(8:00) Why we get so tangled in fear about being seen for who we are

(12:25) What to do when you feel blocked by fear of judgment

(21:25) The letter writing exercise that can create a powerful shift

(26:55) The power of listening to your future self to create a big vision
Links mentioned in this episode:
follow Jen
If you enjoyed this episode, it would mean the world to me to see your feedback through a rating and review on Apple Podcasts!