"Be thankful for what you have; you'll end up having more."
-Oprah Winfrey
At some point in your studies or in your browsing of Facebook quotes, you've heard of the concept that what we focus on expands. Or in simple terms, we get more of what we give our attention to.
Have you ever noticed if you're feeling bugged, annoyed, or simply blue, you can easily find more of those experiences to continue that feeling?
And the opposite is true too – when you're feeling good, happy, grateful and excited about life that you can attract more of the feel good?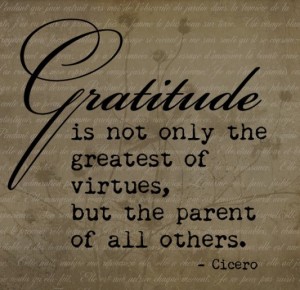 Gratitude is one of my favorite foundational success principles.
It cultivates happiness, contentment, and a positive personality that people want to be around.
It can also be the linchpin of creating success. A few years ago I was attending a business growth seminar by Brendon Burchard with 700 other people. David Bach, famous best selling author of all the financial education books such as The Automatic Millionaire, was an attendee in the audience. Brendon had David come up on stage for just a few minutes. Brendon asked David to sum up and share his number one success strategy. David's response? "I've written down a few things each day that I'm grateful for and I believe that has made all the difference."  Of all the things he could say or express, he chose gratitude. It reinforced to me what already rang true in my heart.
Fostering an attitude of gratitude keeps us grounded to the good. It opens our eyes, hearts, and minds to possibilities. It helps us attract opportunities and cultivate positive relationships.
Now, it's not always "easy" to do so, especially when life has served us up some form of struggle that is sucking up our attention – financial fears, relationship struggles, loneliness, health issues, or a myriad of other life "stuff" to navigate. However, if this is you right now, this principle is even more important for you. This could be the lifeline for you turning your situation around. Science and research has proved that our attitudes and disposition has a direct influence on our lives and our health.
Have you made a gratitude deposit lately?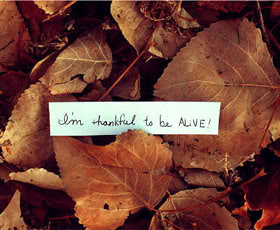 Here are a few quick suggestions to get you in the flow and feeling better, happier, and more optimistic:
1.) Make a gratitude list. Simple enough write a list of the things you're thankful for.
You woke up today.
You can read this email.
You have a computer or mobile device; therefore
you have great opportunities.
Your health, relationships, your home, etc.
Good books, nature, your faith
And so on…
2.) Acknowledge someone else for what you're grateful for in them. By appreciating others, you're making a positive deposit that has a contagious effect on you.
3.) During the first few minutes that you awake and the last few minutes before going to sleep, say out loud or think in your thoughts the things you are grateful for. Our minds are most potent as we drift off to sleep and as we awake. Make gratitude your focus points to begin and complete your day.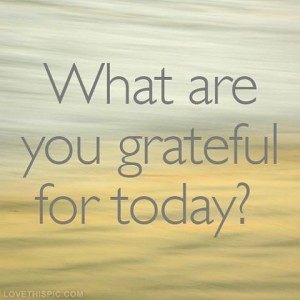 This month I invite you to get swept up in the power of gratitude in your own life. Allow yourself to feel grateful, even for and especially with the little things that bring joy to your life. Be grateful for YOU and all that you're striving for in your life. Your life makes a difference.
I am so grateful that we are connected. Your stories, sharing, and inspiring lives touches my heart and motivates me on my own path. Thank you for being willing to live your own unique path.
Cheering you on!
Tiffany