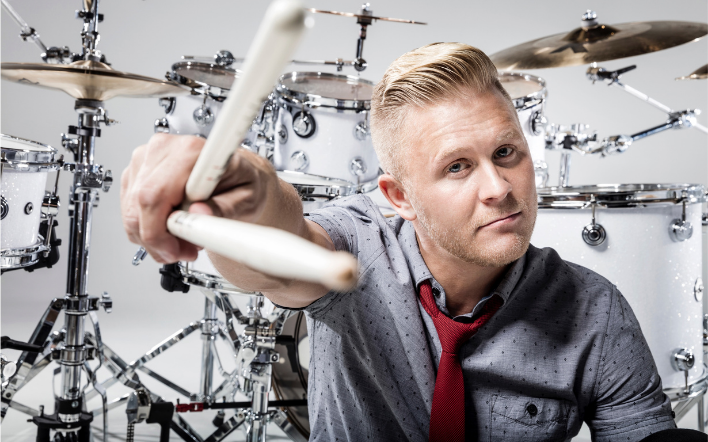 There's a difference in how leaders work.
One of the funnest and most inspiring people I am connected to is on the podcast today and his wisdom is so good. Clint is a leading expert on leadership, but the story of how he got there is incredible.
Clint Pulver is an Emmy Award-winning, motivational keynote speaker, author, musician, and workforce expert.
A Professional Drummer for over 20 years, he's played with top headlining fellow musicians in venues like the Vivint Arena, the Stadium of Fire, and the Kodak Theater in Hollywood. In 2010 he founded the UVU Drumline known as the Green Man Group, which he directed for six years and went on to direct the Drumline for the NBA's Utah Jazz until 2015.
Clint was featured in Business Q Magazine as one of their "Top 40 under 40" as a premiere Corporate Keynote Speaker. He has appeared on America's Got Talent and in feature films with actors such as School of Rock's Jack Black and Napoleon Dynamite's John Heder.
Known as the Leading Authority on Employee Retention, Clint helps organizations retain, engage, and inspire their team members from the front desk to the board rooms and everyone in between. He expertly helps audiences navigate generational complexities, communication challenges, leadership missteps, and cultural cues.
As the president and founder of The Center for Employee Retention, Clint has transformed how corporations like Keller Williams, AT&T, and Hewlett Packard create lasting loyalty through his work and research as "The Undercover Millennial". For over a decade, he has been a self-motivated Entrepreneur who is well versed in business start-up, leadership, sales management, management training, and helping teams grow multi-million-dollar accounts. He uses that experience to create teachable relationship and business strategies based on trust, service, support, connection, and consistent follow-through.
I'm excited for you to hear from Clint about how he has used his unique talents to make the world better, how he has trained leaders to make workplaces better, and how someone caring about him changed his life.
"It's not about being the best in the world. It's about being the best for the world."
listen on
The story of Clint's Emmy-winning YouTube video (2:50)

The two types of people in the world (9:20)

What Clint has learned as an undercover millennial about leadership at work (10:59)

What makes a leader gain trust and retain team members (17:03)

The 5 C's of mentorship (19:45)

The standout attributes of great leaders (26:56)