A few years ago as I was working on a new project that I was struggling to complete, my coach at the time said these valuable words, "Perfect is great, done is better."
It rang a very loud bell for me. To this day that phrase is on a simple 3×5 card in my office that I see every day.
It has served me well over the last few years as a wisdom that helps me to move forward and produce, even when I know (and accept) that it won't be perfect.
In the quest for achieving our goals – growing a business, starting a project, producing a website/book/event/product, you name it – we want to produce high quality content, right? Which is a great thing! I will always strive for excellence and quality AND I'm also aware that many times there is a trap there wanting to suck you in for life. The trap has a name called "perfectionism" and it can keep you and your goals in a holding pen for months, years, or even a lifetime.
Which the trouble is, no matter what it won't ever be "perfect." It can be great and powerful, yet you could always find ways to improve anything. And that vicious cycle stifles our growth, follow through, and expression of the passion that wants to flow through us.
Yesterday I was on a walk in my neighborhood with thoughts about how amazing life is, how much life I want to live, and goals my heart wants to achieve. And for whatever reason I had the awareness that there isn't an infinite amount of time to get after our goals and creating our best lives. We must take action in the time we have now. Yes, we can always improve and progress as long as we're living; yet the truth is that our lives and our goals have an expiration date.
We have an expiration date for this life.
Our goals have an expiration date too.
My point in being so dramatic?
If we're stuck in waiting for life to be perfect to make desired changes – to leave that job or relationship, to write that book or host that event, take that trip or get serious about the bucket list – all in the name of waiting for it to be "perfect", we will likely have regrets. And that is no way to live.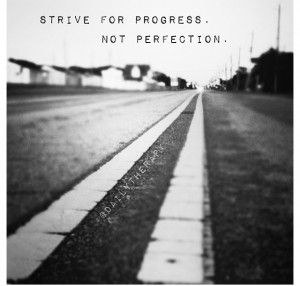 So ask yourself, what's something I am putting off doing or completing because I'm waiting for it to be perfect?
Is it writing your book or producing a product?
Is it waiting to market yourself until you have another certification?
Is it staying where you're waiting for the perfect time to change what's burning in your heart?
What if we could change that perspective to one of progress versus perfection?
For me, this is your most important goal: PROGRESS, not perfection.
Progress is realistic. Progress can happen every day. Progress is how we tackle an overwhelming, huge, and out-of-our-comfort-zone type of goal.
Coaching Assignment:
Consider a goal that you've always wanted to go for, but haven't yet. Write it down.
Identify 3 to 5 simple actions you could begin taking TODAY and do it. Then pick one and do it!
Place the phrase, "Perfect is Great, DONE is Better" somewhere where you will see it often.
Realize that under perfectionism is simply just fear holding you hostage. The fears of "what if I fail? Or is it good enough? What will people think? Who am I to share this?" are all very common culprits creating the perfectionism trap.
Take your power back from the fears of you or your project needing to be perfect and invest it into the path of progress. Your progress is what creates your life and your results, with all its beautiful imperfections along the way.
Isn't it time?!
I thought so too.
Let me know how it goes.
Love,
Tiffany